Join the Resilience Associate Board on June 10 for its second annual 5K Run, Walk, and Roll in support of Resilience! This is a family- and dog-friendly event for walkers and runners of all levels! It's not too late to register – get your ticket today!
We would like to share a significant funding update that will impact the state of Illinois in FY24. Beginning July 1, 2023, the funding available to Illinois Rape Crisis Centers through the Victims of Crime Act Fund (VOCA) will be cut by 49%. VOCA uses non-taxpayer money from the Crime Victims Fund (CVF) for programs that serve victims of crime. Nationally, these funds support services for over 6 million victims of all types of crimes annually through 6,462 direct service organizations, including Resilience.
The maximum Resilience will receive from ICASA this year is $510,000 compared to $1,035,000 which we received last year.  The loss could even be more severe.  Click below to learn more about the funding cuts and how you can help.
We are delighted to announce the opening of our very own RAYGUN online store where you can purchase t-shirts, totes, and buttons to support Resilience.  Keep an eye out for even more merch to be added soon!
Even amid increased efforts to prevent further spread of COVID-19, we continue to be available to survivors. Please call us at 312-443-9603 or email us at info@ourresilience.org, and we will follow up with you in 1 to 3 business days.
We can help you with questions about seeking medical treatment in the ER after a sexual assault, filing an emergency order of protection, making a police report, seeking ongoing medical treatment, and understanding all of your rights and options. All of our services are free and confidential.
Regardless of when and where a survivor's journey begins—in the ER following an assault, or through a phone call for help to make sense of something that happened 20 years ago—Resilience is here every step of the way.
Through our trauma therapy program, medical advocacy, legal advocacy, and Resilience Training Institute, Resilience is here to help survivors during their time of need.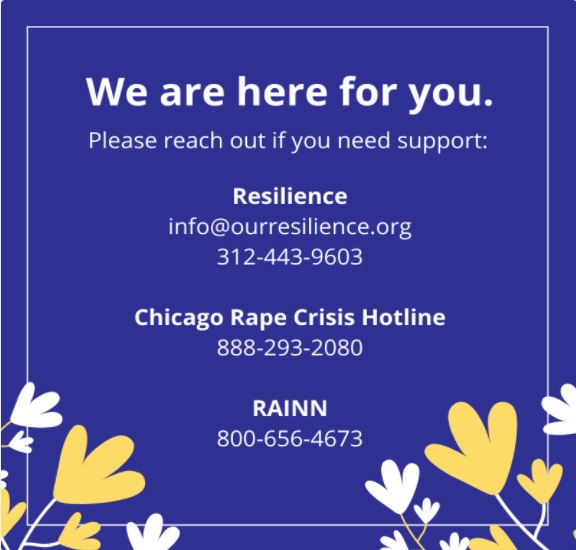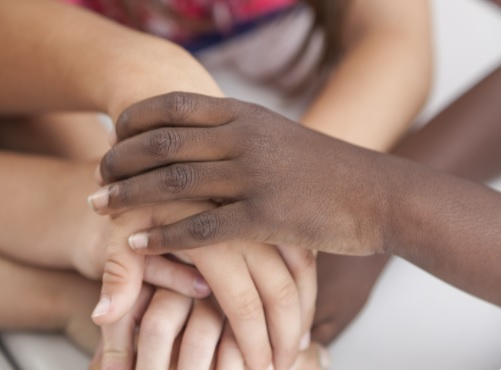 Need Immediate Help?
Chicago Rape Crisis Hotline: 1-888-293-2080
RAINN Hotline: 1-800-656-HOPE
Are you passionate about ending sexual violence and empowering survivors? There are many ways to get involved with Resilience! Become a Volunteer Medical Advocate, join our Board of Directors or Associate Board, assist us with special events, or volunteer your time with the Our Music My Body campaign.
Events
Come together with other advocates and survivors working to end sexual violence. From galas to demonstrations, show your support by attending a Resilience event.
Myths & Facts
Did you know that a great deal of harm is done, often unintentionally, to survivors because the people around them believe the myths that surround rape and sexual violence?
Professional Training Resources
Research shows providers' responses can be critical in shaping the course of healing for survivors. Via its trainings and the Resilience Training Institute, Resilience provides resources and tools to professionals to improve the care of sexual assault survivors.
RESILIENCE Mission
Resilience is an Illinois not-for-profit organization made up of many individuals with two primary goals: to assure that survivors of sexual assault are treated
with dignity and compassion, and to effect changes in the way the legal system, medical institutions, and society as a whole respond to survivors.